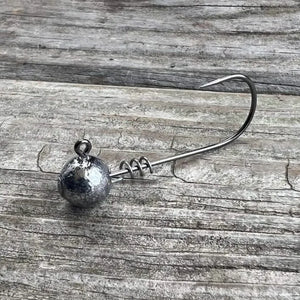 The TrueSouth Ball Head Jig – your ultimate finesse and umbrella rig solution! Choose between the 5-pack or 25-pack options to ensure you never run out.
Available in 1/16 oz, 1/8 oz, and 1/4 oz sizes, this jig boasts a super sharp 3/0 Mustad black nickel hook, ensuring secure hooksets.
Perfect for umbrella rigs and small finesse swimbaits, the Ball Head Jig excels in light line presentations. The screw lock securely holds soft swimbaits, saving you precious time on the water.
Elevate your finesse game and maximize your success with the TrueSouth Ball Head Jig. Get ready to catch more bass with this versatile and efficient jighead!