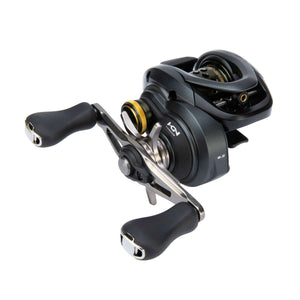 The Curado BFS (Bait Finesse System) is designed for lightweight finesse fishing and utilises FTB (Finesse Tune Brake) technology and an ultra lightweight shallow spool designed to cast lightweight lures more effectively than traditional low-profile models.
If you have tried to fish with very small lures on a traditional baitcasting reel you'll understand the limitations. Often the reel is just not sensitive enough to cast lures of 5g and under effectively, that's where the Curado BFS comes into play. If lightweight fishing is your passion and you prefer the directness of using a baitcasting reel, the Curado BFS will suit you perfectly. Ideal for targeting trout, perch, or even fooling wary larger fish that are ignoring larger lures, the lightweight approach has a lot going for it and with the Curado BFS you have the perfect reel to maximise your success.
The lightweight casting performance of Curado BFS is provided by the FTB (Finesse Tune Braking) system. This consists of a set of magnets housed within the non-handle sideplate, which apply force to the inner surface of the reel's spool. Turning the brake adjustment dial moves the magnets either further into the spool (more brake force) or away from it, but there are no moving parts on the spool itself, which is why it can spin so freely with so little force. The addition of S3D spool design and Super Free Spool technology further enhances performance. Internally precision gears, bearings and X-SHIP deliver smooth, efficient winding power and the overall weight is reduced by the use of an aluminium HAGANE Body.
Key Features
X SHIP
X SHIP provides improved gear durability. By supporting the pinion gear on both ends with bearings, the pinion gear maintains precise alignment with the drive gear. This increased support allows the gears to stay in the same position under the heaviest loads. X-Ship technology also eliminates the friction between the spool shaft and gear to further benefit anglers with enhanced casting performance and casting distance of lighter lures.
HAGANE BODY
The HAGANE Body is a metal reel body with high rigidity. The body rigidity and impact resistance virtually eliminate body flexing on the reel while fighting a fish. The result transforms the angler's actions directly into cranking power.