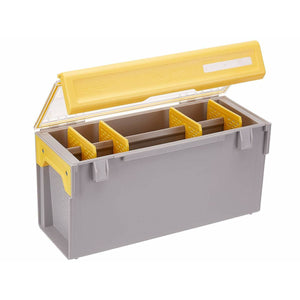 Spinnerbaits and buzzbaits are some of the hardest baits to keep stored and organized, now with the Plano EDGE  Spinnerbait Box you can neatly store wire baits and keep them organized. Unlike the other storage boxes that don't close right and bend the wire arms, the Plano EDGE  Spinnerbait Box allows your spinnerbaits and buzzbaits to hang straight down without putting any  tension on the bait frame, which keeps them perfectly tuned and ready to use at all times. It also features Rustrictor rust preventative technology molded into the base and a Dri-Loc watertight seal that keeps all of your spinnerbaits and buzzbaits in pristine condition. 
Utilizing a tall construction that holds almost any wire frame bait, the Plano EDGE  Spinnerbait Box can be used on its own with one open compartment, or combined with the four pre-cut dividers to create up to five  compartments. Equipped with side mounted handles for easy carrying and heavy-duty steel pin hinges for increased durability, the Plano EDGE  Spinnerbait Box is the most effective spinnerbait and buzzbait storage system ever created.

Dimensions : 14" x 6.25" x 7.28"
Features:
-Rustrictor rust preventative molded into the base
-Dri-Loc watertight seal
-Crystal clear lid to quickly identify contents
-Oversized latch for easy one-handed open
-Innovative labeling system
-Super durable ribbed base and lid
-Heavy-duty steel pin hinges
-Four adjustable dividers
-Specially designed to stack multiple units
-Side mounted handles