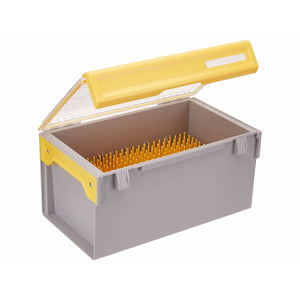 Please note: Box does not include lures.
Dimensions : 14" x 9" x 7.28"
Taking deep crank storage to the EDGE, the Plano EDGE 3700 Crankbait XL Box revolutionizes deep crankbait and oversized lure storage. Featuring a tall construction that is able to accommodate most magnum sized crankbaits, the Plano EDGE 3700 Crankbait XL Box is equipped with a  silicone finger dividers, which gives anglers more freedom to store baits of various sizes .
To further protect your lures, the Plano EDGE 3700 Crankbait XL Box features Rustrictor rust preventative technology molded into the base and a Dri-Loc watertight seal to keep rust from forming and prevent water from seeping in. It also features a crystal clear lid design for quick identification of contents and an oversized latch that allows for easy one-handed open operation. Keep your deep crankbaits more organized and in better shape with the Plano EDGE Master Crankbait XL Box.



Features:
-Silicone "Fingers" protect the lures hooks and finishes
-Rustrictor rust preventative molded into the base
-Dri-Loc watertight seal
-Crystal clear lid to quickly identify contents
-Oversized latch for easy one-handed open
-Innovative labeling system
-Super durable ribbed base and lid
-Heavy-duty steel pin hinges
-Specially designed to stack multiple units