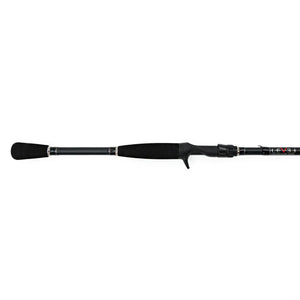 Level Rods are a premium quality rod handcrafted in the USA to meet all of your fishing needs. These rods were all designed and tested by MLF angler Anthony Galiardi.
Most Level Rods have 12 guides plus the tip top.  This has a huge impact on how a rod fishes.  It reduces line contact on the blank which leads to longer and smoother casts.  It also distributes the load from the line more evenly across the blank, allowing the rod to realize the blank's true potential.  The guides are smaller than traditional guides yet larger than micros, therefore combining the benifits of both.
Comfort is a characteristic Level feels many rod manufacturers overlook.  It doesnt matter how well a rod can perform, if its not comfortable, its not going to be enjoyable to fish with; so they designed grip/handle combinations that gave ultimate feel and comfort.
It was their goal to produce a rod that has the best combination of lightness, sensitivity, durability, and comfort; and offer it at a price that makes it affordable. Level has  achieved that goal, and in doing so Level Rods gives more "bang for your buck" than any rod out there.
As a customer, you can be assured that Level Rods are built with performance and quality in mind.  Each rod is hand crafted here in the United States with the utmost care and attention to detail.