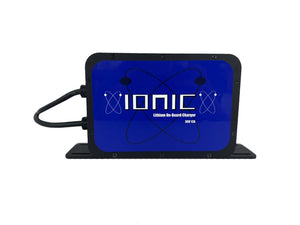 Searching for a top-notch 36V battery charger for your golf cart or another device? You're in luck. Our charger is ideal for golf cart batteries, as well as other 36V deep-cycle options.

This 36V charger isn't just "good" – it's exceptional. Packed with advanced technology, this smart charger offers quick, safe charging and ultimate battery protection.
Pair it with Ionic lithium batteries for the fastest charge available—five times quicker than lead-acid batteries.
Benefits of the Lithium 36V 12A Charger
Capable of charging 36V standalone batteries or multiple batteries connected in parallel
Ideal 36V battery charger for golf carts
Monitor charging status in real-time through your smartphone using Bluetooth
Utilizes Constant Current, Constant Voltage (CCCV) technology to extend the lifespan of your 36V battery
Specifically designed for quick charging of LiFePO4 batteries
Intelligent charging eliminates risks of overcharging and removes the need for constant supervision
Lightweight and portable, weighing just 5.7 pounds, making it easy to transport in your golf cart
Constructed from premium-quality materials Included with Lithium Hub's 30-Day Return Policy and complimentary shipping
CCCV technology also enhances the longevity of lithium batteries
Compatible with lead acid and AGM batteries as well.
 36V Charger Bluetooth Capabilities