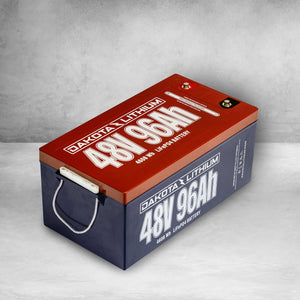 Ships Via Freight 1-4 days after ordering
 Built Dakota tough, this single 48 volt lithium battery will help you play longer and go further with twice the run time for your golf cart, electric vehicle, or electric outboard motor, while lasting 4x longer, providing exceptional lifetime value. Built out of our legendary lithium iron phosphate (LiFePO4) cells, this battery requires no maintenance or watering, can be installed in any orientation, and can charge 5X faster then lead acid – giving you more time, and more freedom. The best part is this single Dakota Lithium battery weighs 1/4 as much as a set of lead acid golf cart batteries, allowing you to cut 300 lbs or more off your cart. Experience better vehicle handling, less wear & tear, and lower maintenance costs.
 With a whopping 5kWh of deep cycle power inside of a single power source, this is the largest battery Dakota Lithium makes and it optimized for deep cycle and marine applications like 48V solar energy storage, 48V electric outboard motors, 48V golf carts, or any 48V application where you need steady power for a long time. Free 48V 8A amp LiFePO4 chargers included!
SPECIFICATIONS
11 YEAR WARRANTY
World beating, best in class, eleven year manufacturer defect warranty.
STORAGE CAPACITY
96 ampere hours (Ah). Dakota Lithium batteries provide consistent power for all 96 amp hours. DL LiFePO4 batteries have a flat voltage curve, which means they have a steady power output as the battery discharges. The power output will not dramatically drop like similar sized SLA batteries. You get all the juice down to the last drop.
VOLTAGE
48V (not intended for wiring multiple batteries in series, 48V systems only)
ENERGY
4,915 Watt hours (Wh) per battery (4.9 kWh power system)
TERMINALS
F12 terminals (posts that screw in) with M8 terminal bolts included. Easy to adapt to different connection needs. (Max torque 15 ft. lbs.)
WEIGHT
77 lbs (35Kg). That's 80% lighter than a set of lead acid batteries, saving 300 lbs. of weight.
SIZE
20.5 in (520mm) L x 10.5 in (267mm) W x 8.66 in (220mm) H
BATTERY RANGE
For carts with a max speed of 23 mph or less expect a battery range of 40 - 60 miles depending on cart model. For carts with a max speed of 27 mph expect a battery range of 30 - 40 miles. Wire 2 units in parallel to double the battery range.
LIFECYCLES (BATTERY LIFESPAN)
Up to 100% capacity for 2,000 recharge cycles (100%DOD), 80% capacity at ≥4,000 recharge cycles (80%DOD), 50% capacity at ≥6,000 (50%DOD - battery half life). The typical SLA has 500 cycles. Dakota Lithium batteries last so long that the price per use is a fraction of traditional batteries.
OPERATING TEMPERATURE
Ideal for rugged & harsh environments. Much better than SLA or other lithium's. -20'F min, +120'F max optimal environmental operating temps
DISCHARGE
100 A max continuous, 200 A max pulse for 3-5 minutes. The flat discharge voltage curve provides a 75% bigger capacity then a SLA 100Ah battery.
CHARGE
50 A max, 57.6 V max recommended. Free 8A LiFePO4 battery charger is included.
INCLUDES ACTIVE BMS PROTECTION
Contains a circuit that handles cell balancing, low voltage cutoff, high voltage cutoff, short circuit protection and temperature protection for increased performance and longer life. A LiFePO4 battery charger is required to turn the battery back on after a BMS cut off (included w purchase).
CERTIFICATIONS
All batteries are UN 38 certified. Dakota Lithium's cells are UL1642 certified and have been tested per IEC62133 standards. Meets all US & International regulations for air, ground, train, & marine transport.
CHARGER INCLUDED
Free 48V 8A LiFePO4 charger included. Upgrade to 48V 15A charger for 2X the charging time.
FREE FREIGHT SHIPPING
Free shipping included to lower 48 US states. Battery must ship via Freight and will be delivered on a shipping pallet.
HOW MUCH POWER DO I NEED FOR MY GOLF CART?
This single 48V battery will replace a set of 6V, 8V, or 12V batteries in a 48V cart. This battery is suitable for most carts with a max speed of less than 27 mph and a motor controller rated under 240 Amps. If your motor controller is rated 240 Amps or higher, you may need two of these 48V batteries in parallel (some dune buggies, off-road carts, ATVs, and high speed carts fall into this category).
HOW MUCH POWER DO I NEED FOR SOLAR PANELS?
Each battery has 4.9 kWh of power storage. 48V has an efficiency advantage for solar energy systems (google 48V vs 12V for solar energy). 500 - 800 watts of solar panel capacity with a 48V solar charge controller would fully charge this battery daily.