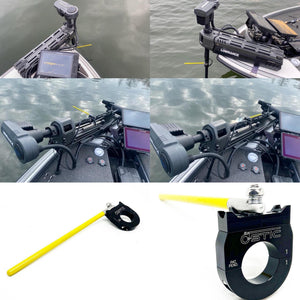 Enhance your casting accuracy while using forward facing sonar with C-Stic.
​
C-Stic is a directional indicator for your transducer beam. Use this product to visually align your transducer with your target (fish or cover), for a more accurate cast.
​
A tool that easily attaches to your trolling motor; stows and deploys with no interference with other electronics on the bow.
CS Pro Solutions have developed this product so when using your Lowrance Ghost you have an actual representation of which way your trolling motor is actually facing. They developed this because the heading arrow on top of the Ghost is magnetic and at times can be off up to 1/2", which when broadcast over 50-100 feet out is feet. This becomes a probelm when using forward facing sonars, so with the O Stic you will know exactly which way your foward facing sonar transducer is pointed . This is for the bolt on aluminum bracket and folding yelllow indicator.