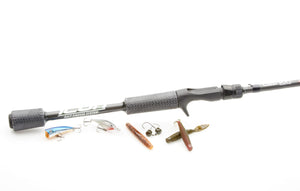 What is a BFS Rod?
Bait Finesse System Fishing Rod Design:
The BFS or "Bait Finesse System" was designed specifically for ultra-light finesse fishing with baitcasting tackle. Cashion has taken their American-Made, scientifically superior touch and developed a line of Bait Finesse System Rods for anglers everywhere! The Cashion ICON BFS rods are designed with a light power and fast action tip, ideal for finesse fishing small baits around cover with the control that only a baitcasting rod can offer. These rods come equipped with micro guides that enhance casting distance and accuracy. The sensitivity of the ICON series is unmatched. The science behind the sensitivity starts with Cashion's hand-rolled CR6r blank. The CR6r blank is rolled unidirectionally, ensuring that all fibers are running in the same direction, transmitting vibrations from the tip of your rod to the tips of your fingers. The hand-made carbon fiber / fiberglass grips are designed for a secure, dense grip for enhanced sensitivity to feel even the slightest tick on your line. It's all about rod sensitivity when finesse fishing, and Cashion has perfected it down to the molecular level.
The CR6r BFS blanks are designed with a fast-action blank, which is different from most BFS rods that offer a moderate-fast action. The fast-action blank allows the blank to load near the tip, which provides more accurate casting and allows your bait to stay in the strike zone longer. In addition, the fast action provides more power higher up the blank, which is needed for light power blanks to control and help play fish.
CR6r Blank Material Science:
Cashion Carbon Fiber fishing rod blanks are designed and manufactured in Sanford, NC. Cashion stands for American-Made, Material Science Technology, and the Craftsmen to build detailed-oriented carbon fiber fishing rod blanks. Cashion is obsessed with attention to detail and especially at the molecular level. Cashion carbon blank design has focused at the molecular level to utilize epoxies that excel at encapsulating and physically bonding to high performance carbon fiber.
● American-made blank and American sourced carbon fiber pre-preg
● Raw Finish CR6r blank for extreme sensitivity and durability
● Advanced Interface Bonding (AIB) – AIB is a combination of mechanical and additive technology to create ultra high bond strength at the interface of carbon fiber and epoxy matrix
● Proprietary Weight Reduction (PWR) Engineering – Novel reinforcing strategy to increase hoop strength but limit weight increase
● High Tg Epoxy (HTE) formulation with AIB – Novel epoxy with impressive mechanical properties and high modulus for increased blank sensitivity
ICON BFS Casting Rod Features:
● Specially engineered blank for finesse fishing with a baitcaster
● Fast action blank which provides fast responsive the blank for casting and reaction
● Handmade carbon fiber / fiberglass grip for a secure, durable, and dense grip to transmit even the most faint vibrations
● Micro guides for enhanced casting distance and increased accuracy
● Blank through reel seat design with direct blank contact for added sensitivity
● Ergonomic reel seat for all day casting comfort
● Best hook keeper design on the market. Engineered placement of hook keeper for fast lure hook up and removal
| | | | | |
| --- | --- | --- | --- | --- |
| Technique |  SKU |  Length, Action, Power | Line Weight(Lbs) | Lure Weight(Lbs) |
| SINGLE HOOK FINESSE BAITS: NED RIG, DROP SHOT, MICRO JIG, SHAKY HEAD | IBFS610MLF | 6'10", FAST, MED-LT | 4 – 10 | 1/8 – 7/16 |
| TREBLE HOOK BAITS: FINESSE CRANKBAITS, JERKBAITS, POPPERS | IBFS7LF | 7′, FAST, LT | 2 – 8 | 1/16 – 5/16 |