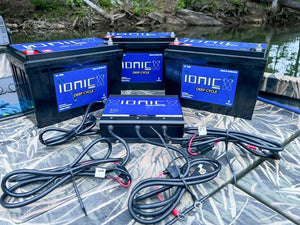 Ionic Deep Cycle Lithium Batteries are lightweight, keep you on the water all day, bluetooth enabled to let you know exactly what the charge is, and have one of the best prices around for lithium batteries.
What You Get
Two of our 12V 100Ah batteries will power most bass boat setups with a 24V trolling motor system and other electronics like your fish finder.$1398 Value
One of our 12V 125Ah batteries will server as your cranking battery and start most 200-250hp motors. $789 Value
A 3 Bank Ionic Lithium Charger will keep all of your batteries charged easily.$329 Value
These fantastic bluetooth enabled lithium batteries have one of the best prices around and come with a 11 Year Battery Warranty.
A Custom built battery trays for Ionic Lithium Batteries -12V 100Ah/125Ah – 1 battery. These trays are custom built with rubber pads, mounting screws and battery strap.$75 Value
A Custom built battery trays for Ionic Lithium Batteries -12V 100Ah/125Ah – 2 battery. These trays are custom built with rubber pads, mounting screws and battery strap. $110 Value